Just to clarify, my experience on reading The Shadowhunter Chronicles (TSC) will be divided into 3 parts (for now). I only finished the first two series from The Shadowhunter Chronicles, which are The Mortal Instruments and The Infernal Devices. I also finished The Bane Chronicles, which is a novella from TSC. For the first part, I will be talking about
the first three books
from
The Mortal Instruments
, which are:
1. City of Bones (the one made into a movie)
2. City of Ashes
3. City of Glass
SYNOPSIS
I will cut short the synopsis because I'm not gonna spoil anyone here, just in case you're going to read the series.
1. City of Bones
Sets in: New York City
On her 16th birthday celebration, Clary Fray and her best friend, Simon Lewis, went to a nightclub. There, she saw something that she shouldn't have saw, a group of people killing someone. She was shocked and immediately ran away after seeing the incident. The next day, Jace Wayland, one of the people who she met last night met her again. In the same time, her mother was in danger and when she went back home, her mother was gone. Unexpectedly (yeah right), the only people that could help her was the group of people she saw killing someone. They were called Shadowhunters.
"If there was one thing she was learning from all this, it was how easy to lose everything you had always thought you'd have forever."
2. City of Ashes
Sets in: New York City
An unexpected truth was unravelled from the first book and sent the two main characters in dilemma about their own feelings. In the meantime, the villain, Valentine, was planning something the other side could never imagine. Only one of the characters knew about it but the others won't believe that character…
"You disappear so completely into your head sometimes," he said. "I wish I could follow you." You do, she wanted to say. You live in my head all the time.
"I really was sick," she said. "I swear. I almost died back there on the [ ], you know." He let her hand go, but he was staring at her, almost as if he meant to memorize her face. "I know," he said. "Every time you almost die, I almost die myself."
3. City of Glass
Sets in: Alicante (the main city for Shadowhunters' home country, Idris)
Clary finally found a way to cure her mother and the only way to find it was to go to Idris. There, secrets of her family's past and even about her unravelled. Something bad is coming and if she just stands still, every human, Mundane or not, everyone she loves will be in danger.
"People aren't born good or bad. Maybe they're born with tendencies either way, but it's the way you live your life that matters."
REVIEW
When I started reading City of Bones, I was only reading to see what all the hype is about. I saw The Mortal Instruments movie when I was 14, loved it and immediately went to Wikipedia to read the rest of the story. I thought I was never going to read the series because I thought I knew a whole book series wasn't affordable for me back then. Being the impatient girl that I was, I did what I could to know how the story goes.

Fast forward to the time I started becoming a very active reader and knew about digital library, I still thought I wasn't going to read the series because I thought, what's the point? I spoiled myself already, I knew what would happen at the end of the series (or so I thought) and I knew that I wouldn't really like how it was written given the time it was published.

So, basically, the reason I thought I was never going to read the series were:

1. I spoiled myself (or so I thought).

2. I read some mixed reviews on it and I thought I wasn't going to like it.

3. I thought I wasn't going to like the writing style.

4. I thought reading a story that I already knew is a waste of time.

5. There are too many books in The Shadowhunter Chronicles and more books are coming and I thought it wasn't possible to keep up with it (or is it?)

So one day, just to see if any of my prediction will be correct, I read City of Bones. Out of the blue and without any high expectation.

I'll start with the writing style, which was the only thing I was right about. I didn't really like the writing style. Considering it was published in 2007 and Cassandra Clare probably started writing it way before that, the writing style is obviously from those years. If I was reading this when I was 13, I would think the writing style as beautiful and brilliant and love it.

I love how Cassandra Clare introduced the readers to the world, though. The system was easy to understand and it was good for a fantasy book beginner like me. The way she wrote about her characters clicked well with me. She also inserted some jokes here and there, making me laugh even during a very serious scene. Most of the time, the jokes came from the characters you didn't expect to even make jokes.

I think these are the reasons I just let the writing style slide; if a book with a writing style I'm not fond of can make me sit and read the book anticipating the characters' next move and moreover, the writing style was said to get better through the series, I thought the next books are gonna worth my time.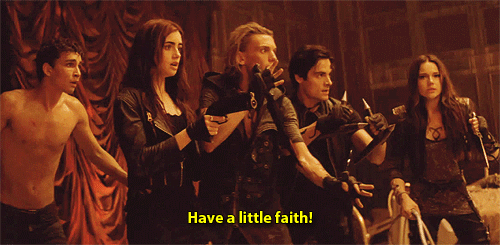 I spoiled majority of the plot to myself by reading spoilers from Wikipedia a few years ago but when I started reading it, I realized that I didn't actually remember everything. Most shockingly, when I got into the second book, majority of the things that I thought I remembered didn't even happen. My memory (or Wikipedia) betrayed me. I thought I knew everything but Ha! Jokes On Me because I was surprised by Cassandra Clare so many times even in the first book. Because of the surprises that I didn't see coming, the plot kept me intrigued; I was curious on what more of my memories would be proven wrong. You can say a lot about this book but boring isn't one of them.

Moving on to the part I love to talk about the most which is the characters. At first, the characters weren't exactly likable, considering they were 16 to 17-year-old teenagers and teenagers aren't exactly known to make the wisest decisions. Man, the angst. Teenagers just do whatever they think is right and even when they can see the consequences they might cause from their actions, they just follow what they want (Ha as if I'm not a teenager) (I'm looking at you, Clary). However, as the series went, I saw more depth in the characters. Why they were acting the way they were, some of their back story and unexpectedly, the characters grew on me. By the end of the third book, even when I still didn't really like the characters, I was rooting for them wholeheartedly.

What I can say about the first three books is that this series was a good debut series. I really recommend this to the ones who want to start reading fantasy book because it's not confusing, the magic system is easy to digest and the writing style is not too flowery to understand. The characters are easy to relate to and even when I thought I hated a character, I knew I would be pretty devastated if he/she died and that shows a lot.
Yup Jace. I'm the one who's different.