(This was written right after I finished Shadow and Bone trilogy in May)
You might think it's an exaggeration but I assure you, I absolutely did not. It was a very rare occasion but I did the same thing finishing The Raven Cycle a long time ago. It happens when I get too invested in a story. I just finished my foundation, I have a lot of time to spare and I don't feel like getting out of bed very much. It sounds like a perfect time to binge-read some series for me.
I had been wanting to read this series for a long time, I borrowed Shadow and Bone from my local library twice; once in 2017 and the other time in 2018. Both times I ended up only finishing two chapters and I couldn't get into it. I'm glad I tried to start reading it again because this time I actually finished Shadow and Bone and not just the first book but the whole trilogy! Actually, I just wanted to finish this book quickly so that I could start reading the Six of Crows duology because people are still talking about it until now, the hype is real!
SHORT SUMMARY OF THE WHOLE TRILOGY: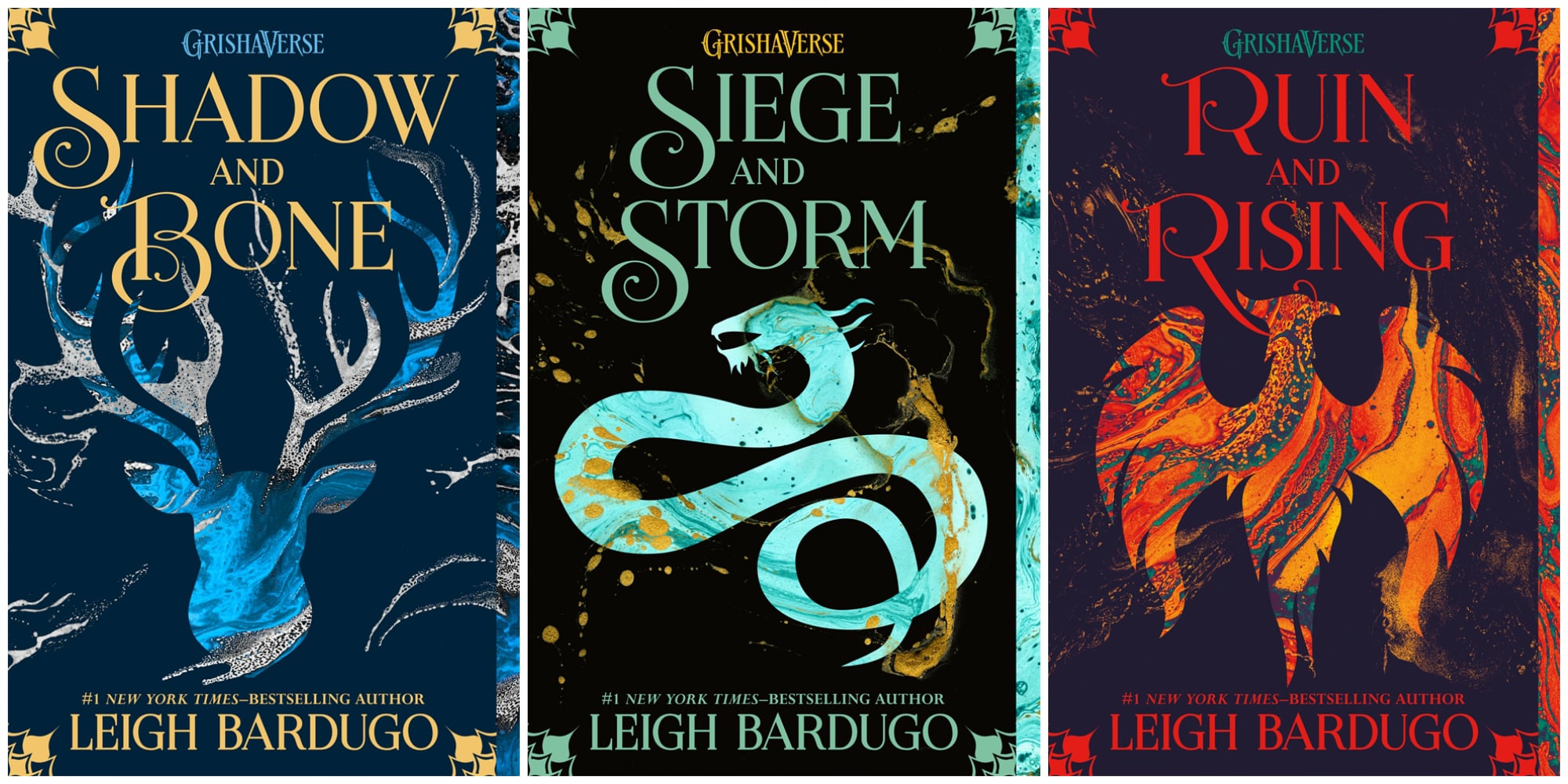 A story about Alina Starkov, who thought she was just an average plain girl, crushing on her best friend ever since she was a child, Malyen Oretsev and suddenly she found out that she wasn't really an average. She has a rare power to either save or destroy her country, Ravka and places around it.
With the aim of saving her country by destroying the Fold, she embarked a journey towards being a warrior with the help of beautiful Genya, her mean mentor Baghra and the handsome, irresistibly attractive and powerful Darkling.
Wait. Actually, that is just the summary for the first book because if I write the summary for the second and the third book, it will give away the ending for the first book.
To be honest, I think if I read this book during The Hunger Games and Divergent era, I probably would give all the books 5 stars. However, I ended up giving 4 stars for the first two books and 5 stars only to the third book.
THINGS I REALLY LOVE ABOUT THE TRILOGY:
1.
Alina's character development.
She went from this average girl, low leadership quality, bad combatting skill to a good leader, a very good fighter and a powerful opponent for a 120-year-old villain who had been using his power for basically his whole life when she just knew she had her power for a few months. She grew up so much in the span of a few months and I really loved that.
"I don't care if you think I'm a Saint or a fool or the Darkling's whore. If you want to remain at Little Palace, you will follow me. And if you don't like it, you will be gone by tonight, or I will have you in chains. I am a soldier. I am the Sun Summoner. I am the only chance you have."
2.
DARKLING.
He was irresistible even when he wasn't present in a scene. Even when he was mentioned in two lines. His back story was also really good and I was able to sympathize with him at the end of the book even when he did a lot of bad things. The second and third book proved that he was also a human and all the things he got through made him who he was.
3.
The redemption of Malyen Oretsev.
In the second book, I hated him so much. I understood that it was hard for him to cope with Alina's changes; she wasn't really the girl he knew anymore and all the stuff that happened really took a toll on him. He was really annoying and I thought he was holding Alina back from becoming who she really is.
"Your heart," he said flatly.
I took his hand in mine and pressed it against my chest.
"It's still the same heart, Mal. It's still yours."
Alina was trying to protect Mal from being hurt and he kept hurting her. I hated him for that. However, in the third book, he became this guy that just wanted to help Alina in finishing her mission and would do anything to help her. Instead of being the one who held Alina back, he supported her, he helped her and most of all, he believed in Alina. He grew even stronger than how he usually was and I love that he redeemed himself, considering he was Alina's one and true love.
"I wasn't afraid of you, Alina. I was afraid of losing you. That girl you were becoming didn't need me anymore, but she's who you were always meant to be.""Power hungry? Ruthless?""Strong." He looked away. "Luminous. And maybe a little ruthless too. That's what it takes to rule. Ravka is broken, Alina. I think it always has been. The girl I saw in the chapel could change that."
4.
"I was impressed, and also unnerved. Being around Nikolai was always like this, watching him shift and change, revealing secrets as he went. He reminded me of the wooden nesting dolls I'd played with as a child. Except instead of getting smaller, he just kept getting grander and more mysterious. Tomorrow, he'd probably tell me he'd built a pleasure palace on the moon. Tough to get to, but quite a view."
NIKOLAI.
He was literally my dream guy. My book boyfriend. He was charming, funny, he's handsome and he knows it. He has the best leadership quality; always thinking good ideas, has a strategic mind and most importantly, he's so intelligent. He was a genius engineer and also a prince! He wasn't having fun all the time like other princes usually do, he went to study (and was serious about it), served in the military and was good in it and he knows his way to his people's heart. He cared about his people and that made him a good prince.
"I did apprentice with a Fjerdan shipbuilder. And a Zemeni gunsmith. And a civil engineer from the Han Province of Bolh. Tried my hand at poetry for a while."
THINGS I DIDN'T REALLY LIKE IN THE TRILOGY:
1.
The introduction to the world-building didn't really sit well with me.
Maybe that was the reason why I kept abandoning the book before. For the first few chapters, I was confused about The Fold, the places and all, I needed to look at the map again and again because I just jumped right into the story but as I was reading, I could see Ravka created in my mind bits by bits, I get used to it the more I was reading it.
So, all in all, this trilogy was really great. I'm really looking forward to read more Grishaverse books, especially Six of Crows and Crooked Kingdom. The characters are all lovable and stay in your mind for quite some time. The author managed to make me finish the trilogy in one day, so I think that says a lot about this book. If you love a story with good character development, well-thought plot, entertaining read and make a good escape, I totally recommend you to read this book.